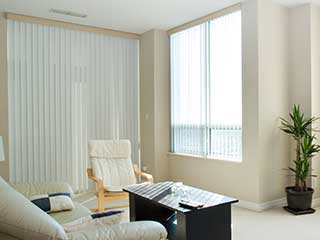 Vertical blinds are ideal for longer windows and sliding doors. Below, you can get all the details on our low cost, high-quality vertical blinds, all custom made to your specifications! Wherever you live or work in Palo Alto or the nearby areas, you're sure to have a use for our custom blinds, shades, and curtains. Blinds & Shade Palo Alto offers a great selection of different vertical blinds for doors and windows. Our in-person consultation appointments (free of charge) will show you the wide variety of choices available to you.
Quality Vertical Blinds Near You
Blinds & Shade Palo Alto has been in this business for years, and we made it this long by providing peak quality and bedrock prices! Our full service includes an initial consultation appointment, custom design and production, and then delivery and installation as one package. We offer our at-home free estimates to anyone in the Palo Alto area looking for quality vertical blinds, custom made for their specific needs.
Vertical Blinds For Windows
If a window is longer than it is tall, vertical blinds are your best option for it. Blinds are stronger, easier to move, and last longer if the panels are short and well supported. For that reason, vertical blinds should go in long, low windows, while horizontal blinds are for tall, narrow ones. Vertical blinds for office windows are common since offices and waiting rooms often have long windows and light-sensitive contents (including waiting customers on the benches!). Homes with wall-sized living or dining room windows also have a place for these treatments, as do those with glass or screen doors.
Vertical Blinds For Doors
Many decks, porches, and patios have long sliding doors that need coverings for the same reasons windows do. We can add another line of tracks along your door's, or install a bar for vertical blinds to hang from across the top. Vertical blinds for sliding glass doors can give the room a nice, airy sunlight filter, or a sturdy adjustable barrier against the sun. It all depends on what style and materials you use.
Blinds Custom-Made For You
With some flexible vinyl vertical blinds, you can keep a room airy and open while still giving you as much shade and privacy as you want. If you want something sturdier, but just as light and waterproof, we make aluminum blind panels as well. For the best strength and some classic aesthetic, try wood. For something more elaborate, we can give you vertical blinds with curtains or other extra layers as well.
Motorized Vertical Blinds In Palo Alto
The introduction of electrical motors and remote controls into the equation gives us a ton of new options to work with! Motorized vertical blinds are convenient, time-saving, and can even save you money over the years. Home and business owners lose hundreds or even thousands of dollars to furniture damage, faded wallpaper, and air conditioning needs, due to forgotten window blinds. With a timer or sensor to remember for you, you'll never have to worry about left open blinds again! Our variety of motorized vertical blinds offers you Wi-Fi remote control that allows you to use your smartphone in place of the regular handset. You can also choose different power sources for your electric vertical blinds, like battery, wired, and solar.
Call To Schedule Your Free Estimate!
We send our vertical blinds experts to all areas around Palo Alto to provide a free consultation, design assistance, and estimates. We here at Blinds & Shade Palo Alto pride ourselves on working with every customer to create just the manual or motorized vertical blinds they want. And at prices anyone can afford. Call to set up a free consultation and see what sorts of features and designs your new blinds can have.