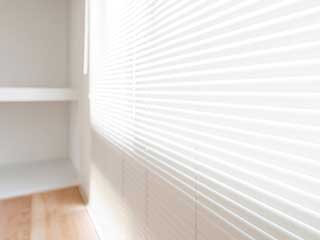 Few options could work better for elevating your home or office décor than gorgeous faux wood blinds. These window coverings are both extremely attractive and very practical, enjoying the beautiful look of wood without the annoying maintenance it requires. Love the appeal of wood grain texture on blinds? You can get that without the fuss that real wood requires for maintenance. Our fantastic imitation wood window blinds make it simple to find the perfect fit for any room in your Palo Alto property. Our affordable faux wood window blinds are practical, beautiful and long-lasting. And you can get them custom made to your specific taste and needs.
Faux Wood Blackout Blinds At Low Costs
For keeping your property private, you can't do much better than custom faux wood blackout blinds. These window treatments are designed to prevent light from passing through at all, thanks to overlapping vanes. That ensures you have no need to put up with neighbors looking into your home, which is a concern for many Palo Alto residents. You'll also be able to guarantee darkness in a room whenever you need it. That's perfect when the kids need a nap. With our amazing custom design options for faux wood blinds, you'll be sure to find something that looks great as well as provides total light control. Choosing blackout features for your new window blinds will make them an excellent option for bedrooms and office spaces. Anywhere where you need privacy, blackout blinds can fit perfectly. Keep your sleep comfortable, and your privacy optimal.
Best Deals On Faux Wood Blinds in Palo Alto
We keep our costs low while still providing a quality range of faux wooden window treatments in different textures and designs. Our custom blinds manufacturing process incorporates a huge range of different options, allowing you to change the size of blind vanes amongst much else. Crucially, you can choose from a magnificent range of colors for your new faux wood blinds. Match your new imitation wood blinds to your home's existing decor with our extensive color selection. In addition to this, you can also integrate different design features, adding another way to make your new faux wood blinds your own. While we maintain low product prices, the quality of our blinds remains sky-high. You can choose all sorts of rich wood-like textures for your new custom made blinds. And the faux part makes it so that you don't have to worry about special upkeep needs!
Motorized Blinds For Windows – Faux Wood Textures
One quick and simple method to make your property even more convenient is to install motorized faux wood blinds. These systems are designed to fit seamlessly within your property, bringing unparalleled ease of use. Simply press a switch or tap your smartphone and your faux wood blinds will adjust to the desired position. That's perfect for larger surfaces like window walls in living rooms or offices, allowing you to cut out unwanted sunlight with ease. Our extensive array of faux wood blinds for Palo Alto properties can come with wired or wireless motors, enabling you to install these systems wherever they're most convenient. Our low prices make installing automatic faux wood treatments for windows a no-brainer! Make the most out of the latest high-tech innovations in blinds motorization. And choose beautiful and rich wood-like textures as the icing on the cake.
Palo Alto Blinds, Custom Made (in America!)
We come directly to you to provide our amazing range of faux wood blinds and other window treatments. Not only do we provide total customization for all faux wooden window treatments, we even offer in-person consultations. The Blinds & Shade Palo Alto experts will come to your address, anywhere near this side section of the SF bay area. Whether it's your home or workplace, we'll happily meet you and guide you through our extensive range of faux wooden blinds. In terms of design choices for wood-like grainy textures, you've got a slew of options to pick from. But you don't have to spend hours upon hours trying to figure out what works best for your interior décor. Call to arrange a free quote and an in-depth consultation (with no obligation) in the comfort of your office or home.