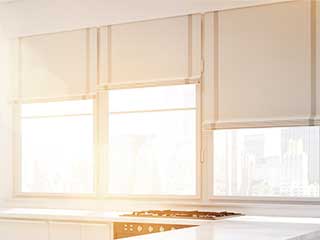 Welcome! Here you can read all about our custom-designed blackout blinds, available throughout Palo Alto and nearby with convenient installation services and low prices. If you need the ability to completely shield your window from all sunlight and outside prying, these are the coverings you're looking for. Blackout blinds provide the protection of a heavy-duty wood or drywall shutter when closed, but adjustable for any light level you want when open. Read on, and get all the details of what we can offer!
Quality Blackout Blinds In Palo Alto
Blinds & Shade Palo Alto produces tailor-made blackout window treatments by customer request, and with their participation! We start with a free consultation appointment, in which our experts will help you decide exactly what you want. Blackout blinds or other treatments for skylights, doors, and windows come in a near-infinite variety. So choosing the best custom blinds for your needs will prove easy once you see the different available choices.
Customized Window Blinds
Decoration scheme, structural concerns, and budget are all factors we take into account and are happy to advise you on. Color and other decorative elements are just the most basic details that you get to choose with our custom design process. Vertical blinds, extra curtain layers over or shades under, hand-drawn or motorized, it's all up to you! Our Palo Alto blackout blinds experts will explain all the details and provide all the info you need to make a choice.
Dark Blinds For Windows Of All Shapes And Sizes
Office windows with blackout blinds produce a much better work environment on sunny or gloomy days. They prevent sun glare and can offer privacy when closed. Blackout blinds for bedroom windows ensure the most undisturbed rest. This works especially great to allow for easy afternoon naps. We can even put blackout blinds on skylights and other non-vertical apertures. After all, they can do more damage than any other type of unprotected window if there's strong sunlight coming from straight above! If you have a very long space to shade, like a wall-length window, vertical blinds are the best structure to work from. Choose rollers or simple sliding frames to fit with our custom track systems for vertical blinds systems. It's all up to you! For more conventional horizontal sets, you can have internal or external mounting.
Blackout Blinds For Doors
It isn't just windows that can use a set of good, light-proof panels. Blackout blinds for French doors, sliding glass doors, and patio entrances are at least as important for rooms that have such entrances. This is another place where the option for blackout vertical blind vanes that slide left and right can really shine. These doors tend to be wide, and you'll want to be able to slide the blinds out of the way with ease to get in or out, after all! With the right choices in color and texture, your new blackout blinds can even complement French doors aesthetically as well as keeping out the sun.
Motorized Blinds For Convenience And Reliability
If you want the best that our Palo Alto design team has to offer, then get a set of our motorized blackout blinds! Our automatic window blinds and shades can come with a remote, a wall-mounted switch, or smart Wi-Fi control, in any combination. Go for the computerized timer or sensor options, and you may even save money in the long run. By making sure your motorized blinds are never left open or shut when they shouldn't be, you'll lower your heating, air conditioning, and furniture repair bills. Human error accounts for most sunlight damage to home interiors. With our automated blackout blinds features, you'll never have to worry about that again.
Free Quotes On Blinds – Blackout, Motorized & More
Blinds & Shade Palo Alto starts every order with a free quote (with no obligation). That way we manage to help every customer find the best blinds, shades, or window shutters for their specific budget and needs. We can make blackout blinds for bedrooms, all sorts of commercial establishments, and more. And you get to customize your new blackout window treatments however you want. Down to the material and the remote control features. So give us a call to book a free consultation and let's start designing your new blinds or shades.