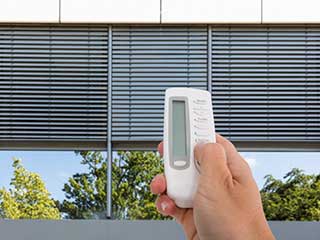 Palo Alto home and business owners have a lot of options when it comes to automated window treatments. Motorized blinds, in particular, make life easier, especially if you have a lot of windows to worry about. Remote control blinds save you time and trouble. Motorized blinds with Wi-Fi or smartphone connection let you manage the indoor environment from a world away. With smart photosensors, like the Lutron smart systems, you won't even have to think about it! Read on to learn about some of what Blinds & Shade Palo Alto can offer in terms of motorized blinds.
A Diverse Array Of Motorized Blinds Options
We design custom motorized window treatments to buyer specifications. Our professional consultation and advice come free. With access to blinds and accessories from Somfy, Lutron, and other industry leaders, we can build you almost anything! Motorized Venetian blinds are a perfect choice for office or school settings with a businesslike atmosphere and lots of windows. For bedrooms, lofts, and galleries full of sensitive antiques, you can have us install some of our motorized blackout blinds. To get an airy, sheer window coverings, there are always motorized roller shades! The choices are almost too many to list. You can read about some of them by continuing on this page, or just call us and ask yourself!
Motorized Blinds – Blackout Features
When people want seriously protective motorized blinds, we always tell them that some blackout blinds with remote control are the best bet. Don't let the name bring you to dismiss them. Blackout blinds don't have to be black; they get their name from being completely lightproof when closed and come in all colors and textures. Motorized blackout blinds will keep your carpeting, furniture, and sleep safe from sunlight damage. They also protect your privacy like nothing else.
Motorized Window Treatments For Light Filtering
Sometimes, you'll want to filter the sunlight without blocking it out entirely. Motorized roller shades made from some advanced solar fabrics give you the best of both worlds. Our selection of Somfy products might interest you in particular, here. To let in broken sunlight over part or all of a room, you can also use motorized Venetian blinds, especially vertical ones. These motorized window coverings are also good for shallow frames that don't have room for thicker blinds, and for glass doors. With the use of sheer Roman or roller shades, motorized coverings can diffuse light and create warm indoor ambiances with the push of a button.
Custom Made Motorized Vertical Blinds
Not every window is a uniform, upright rectangle. That's why we offer our consultation services in advance of all purchases near Palo Alto! On long, sideways windows, or for French doors or other such apertures, horizontal panels won't hold well. That's where our consultants might recommend some motorized vertical blinds. These sliding motorized blinds also let you decide which side of the room to shade at a time if you want part of it illuminated. Your choice in color, texture, and materials, from sheer fabric to cellular tubing, is our mission statement in motorized blinds design.
Free Estimates For Palo Alto And Nearby
Motorized blinds can be very simple to install and set up, or fairly complicated if you need many sets connected to other technology. Motorized window treatments liked to sensors, or central control systems like Alexa, require some software setup and testing. Lutron smart products, for instance, benefit from a professional installation team like ours. For heavier systems like motorized vertical or blackout blinds, you might also want help making sure the opener is strong enough. Our free quotes will let you know what you're getting and why before closing on an order of motorized blinds.
Get New Motorized Blinds Installed!
Smart electric blinds are cheaper than ever before, and Palo Alto residents have access to top-quality custom automatic window shading products. You've got a tremendous selection of window treatments and motorized features to choose from. So customizing something that offers the best bang-for-your-buck will prove simple and fun. Get your new set of motorized blinds crafted, delivered, and installed by booking a free consultation today!