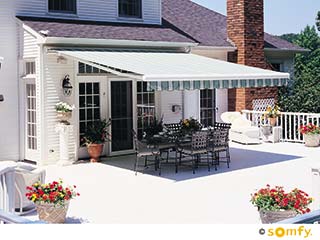 Weather inflicts a lot of damage on patios over time, and strong sunlight and rain will make them uncomfortable to spend time on. You can prevent most of these issues with some well-made patio shades or popup canopies. If you invest in motorized patio covers for your Palo Alto outdoor lounge space, you can rapidly switch to open sky when the weather is good and cover everything when conditions change. Other styles of outdoor shades provide the same benefits for backyards, pools, and similar spaces.
Choose The Right Shades For Your Patio
Style, utility, and feasibility. Those are the three factors to think about when planning your own custom patio cover. Freestanding patio shades, for instance, take a fair amount of space to work with and the freedom to set up their supports. Motorized awnings can fit into pretty small spaces, but you'll need to take power cables or battery changes into account. If motorized patio covers aren't practical for engineering or space reasons, you'll have to choose between manual styles. Your Palo Alto patio needs shades, motorized or manual, that optimize the ability to control sunlight and block it as necessary. The most fundamental decisions come down to the size and shape of the space you want covered, and how much structural support already exists.
Hanging Sail Shades And Motorized Awnings
If you have at least one sturdy wall to build off of, awnings might be your most efficient option. In addition to the classic stationary or hand-raised covers, you can choose motorized awnings that move on rollers or extending frames. This allows you to add sunlight protection for angles that become a problem at certain times of the day. Motorized awnings give you an option to push a button and add shade to pergolas, gazebos, and other patio structures. For a cheaper, lower-tech solution than motorized patio covers for a space that can't support those, consider the simple sail shades. If the space that you want to cover has an unusual shape and you don't have room to add supports, sail shades work with just about any dimensions. The downside of sail shades is that they're a little labor-intensive, and can be fragile compared to other types of outdoor shades.
Freestanding Patio Covers
Outdoor shades with their own supports range from a small popup canopy tent with just one or two walls, to elaborate motorized systems with outbuilding-like mounts. One of the benefits of the popup canopy tent style is its portability. You can relocate these freestanding shades just like camping tents, though reassembling them takes a little more work. For freestanding motorized patio covers and yard protection, you can go with a swiveling or tracked design, with any number of stands. These are especially good if you have a big yard or ball court that you frequently entertain in.
Improvements For Motorized Patio Covers
Even a basic self-contained battery and an old-fashioned remote handset make outdoor shades much more convenient and easy to use. Nowadays, motorized patio covers can work on Wi-Fi networked control schemes, or take their cues from programmed timers and sensors. When you order your own custom motorized patio shades or outdoor covers, our consultants can help you pick hardware from top industry manufacturers. No added charge for their advice!
Palo Alto's Best Custom-Made Patio Covers
With outdoor shading solutions, motorized or not, you have a variety of options. Somfy motorized patio covers, awnings, and even pergola screens can all bring something to the table in terms of convenience and functionality, as well as plain aesthetics. For more information and free estimates, book a no-obligation consultation with our local Palo Alto patio cover installers.