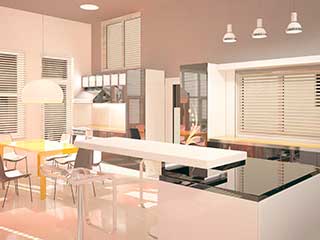 Choosing new window treatments introduces you to the wonderful world of blinds and window shades. You've got so many options to choose from, how do you decide which one's the best? Well, Venetian blinds make for one of the most popular classic choices when it comes to window blinds. These tried-and-true covers have existed for a very long time. It's no wonder why you can find Venetian blinds in Palo Alto homes and businesses, and all over the west coast. So what sorts of options do you have? Well, here are short overviews of some of the most popular ones:
Motorized Venetian Blinds
Automating the movement of blinds via remote controls offers a tremendous convenient advantage. Venetian blinds, motorized, let you decide how much sunlight streams into your property with a simple button push. Our selection of special features for motorized Venetian blinds includes Wi-FI connectivity. That means you can use smartphones and tablets to control them. You also have the option to have us install your motorized Venetian blinds with special sensors that measure brightness and temperature. Your motorized blinds will then adjust themselves according to your preset parameters.
Wood & Metal Blinds For Palo Alto Windows
When it comes to materials, Venetian blinds offer you a wide range of choices. You can have their vanes made from everything from aluminum to faux wood to even vinyl and PVC. The choice comes down to your budget and needs. Wooden Venetian blinds may prove to require more strict maintenance and harder to clean. Vinyl and aluminum, on the other hand, are easier to care for. Faux wood Venetian blinds give you the beautiful look of real wood without the special cleaning and maintenance that go with it. With aluminum, you can get some insulation benefits. Metal Venetian blinds offer a cheaper alternative, but don't always provide the same level of style and décor. Consult with Blinds & Shade Palo Alto experts to ensure you choose the right blinds for your home or office.
Bedroom Blackout Venetian Blinds
The reason Venetian-style coverings have become so popular is their simplicity and functionality. Venetian blinds for bedroom windows can offer an enhancement to the interior décor, while also serving as sunlight control methods. You can pick all sorts of different designs for your new Venetian blinds so matching the interior design of the room will prove easy. You can also get them installed with valances and/or curtains, for an extra decorative boost. For extra privacy, blackout Venetian blinds will make for the perfect fit for Palo Alto bedrooms.
Affordable Venetian Window Treatments in Palo Alto
Thinking of getting new Venetian blinds installed in any Palo Alto home or business, or somewhere in the area? You've got an easy and low-cost way to do that without compromising on quality. All it takes is a short phone call. Blinds & Shade Palo Alto will help you design your new custom made blinds from the materials you want and in the style you like. We offer free consultations to all areas nearby and can send an expert to your house or office to show you all the options and combinations. Give us a call and get your new Venetian blinds made-to-measure for your windows, skylights, or even glass doors!