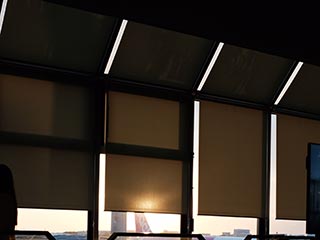 Motorized shades have come a long way in recent years, and Lutron shades are at the front of the pack. Your new motorized window coverings will look amazing, that's a given, but they'll also provide top-notch utility into the bargain. For all of this, you still get the same amazing level of customization that made-to-measure window coverings bring. For example, you can tailor Lutron shades to fit your precise needs with a range of different materials. Blackout shades are a popular addition to Palo Alto bedrooms since they offer total privacy and protection from the sun. Sheer shades, motorized with Lutron controls, are a brilliant way to add ambiance and comfort to any room.
Connect your new Lutron shades to the Wi-Fi network to get even deeper control of light levels at your home or business. Our team offers in-depth consultations and advice throughout the Palo Alto area. Find out more about our amazing range of custom Lutron motorized shades.
Lutron Smart Shades - Remote Controls
You won't find better convenience than Lutron remote control shades anywhere else. These systems are a fantastic way to upgrade any property. The big advantage that you'll find with motorized shades is that they make it easy to maintain a comfortable climate indoors. Simply press a switch, and your Lutron shades will either let in more light or cut out unwanted sun. That means a more comfortable home or workplace without any extra HVAC costs. Go one step further with Lutron's innovative sensors that detect when to move the shades on their own, and you won't even have to lift a finger! Any Palo Alto property can be improved with the addition of these fantastic window coverings.
Low-Cost Lutron Shades Near Your Palo Alto Area
No matter what you need for your property, our experts are ready to help you find it. We offer Lutron motorized shades, custom-made with your choice of blackout or sheer fabrics. Choose the right remote controls for your needs! To get started today, contact our Palo Alto Lutron shade specialists for a free estimate. Arrange your no-obligation consultation and see what beautiful and functional variety of options you can pick from!