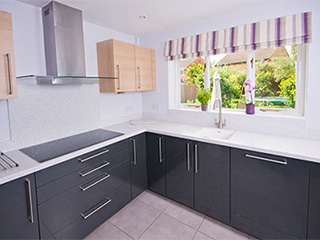 If you want some real class and elegance for your window treatments, Roman shades are the way to go. These ornate shades are ideal for any tall window and go well with other types of window treatment. Roman shades with curtains and valences are some of the most spectacular window coverings in the world. That can improve the aesthetic décor of any room, and provide an elegant shading solution. Blinds & Shade Palo Alto is happy to custom design and make Roman shades in all styles and colors.
What Roman Shades Are
Rather than rolling up on a spindle, Roman shades are drawn up by a complex system of looped strings and backings. This means that when you lift them, they'll fold up into a rippling pattern of folded pleats, with deeper folds the higher you raise them. Roman shades are ideal for tall windows since even fully opened they take up a little space at the top of the windowpane. Because they do well in more vertical frames, Roman shades for doors are also popular. In particular, Roman shades for French doors or sliding glass doors make an ideal combination.
Local Source For Roman Shades
Roman shades are most often associated with Palo Alto bedrooms and living rooms, but creative homeowners have found other uses for them! Choose some white or cream-colored waterproof fragments, and you have perfect Roman shades for bathroom windows. Or, if you have a tall kitchen window or glass door, just commissioning a set of shades in brighter colors and thinner material can fit it. Roman shades for kitchens, hallways, lofts, and other rooms are all growing in popularity. Your property is sure to have a place for Roman-style coverings, and probably several places!
Custom Roman Window Coverings
If rectangular pleated shades aren't eye-catching enough on their own, how about a more complex style? Perhaps you'd prefer some relaxed Roman shades, with hanging, rounded hems. Or, with just a little extra work, our team can fashion your shades with slits, embroidery, hanging tassels, or all sorts of other embellishments. Roman shades with curtains over them are also a classic combination and for good reason. The combination of folding pleats and rippling curtains is a treat for the eye that few other indoor features can match. Our consultants will be happy to advise you on the best choices for your decoration scheme when they give you your free estimate! If you don't want any dangling cords, you can try magnetic Roman shades or even fully motorized ones.
More About Motorized Roman Shades
Motorized shades and blinds aren't just a luxury. Aside from the convenience of remote control, you won't have to worry about child-unfriendly cords, while keeping more fine control than with magnetic shades. By setting your motorized shades on a timer (or even better, a sunlight sensor) you won't even have to be home to adjust your shades. Automatic window shades can save you money in the long run with their reliable self-adjustment. The reduction to your air conditioning, heating, and furniture and wallpaper costs breaks even soon enough!
Get Free Quotes On Custom Roman Shades!
Give Blinds & Shade Palo Alto a call and set up your first meeting at any home or business place nearby. With an in-person consultation from one of our Roman shade experts, you'll see the wide range of options and choose the materials, designs, and colors you want for your new window coverings. We also make Roman shades for skylights and any other type of glass surface you want. Book an appointment today and find out more!