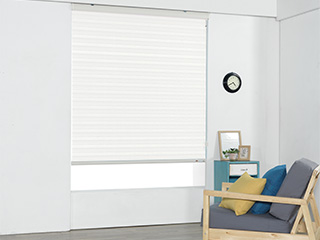 Sometimes you may want window coverings that complement a space, rather than draw attention away from the décor itself. Roller shades are an excellent choice if that's the case! Their simple structure and design, paired with being highly customizable, lend themselves to enhancing the look of an area without overwhelming it. Our professionals here at Blinds & Shade Palo Alto provide free consultations and will help you find the roller shades that suit your budget and needs to perfection. From sheer fabrics to blackout roller coverings for bedrooms. There's a wealth of options available, with customizable features.
Palo Alto's Finest Sheer Roller Shades
Sheer roller window covers are not just beautiful additions, but they're helpful as well! They allow you to still enjoy the sun's rays, while also taking care of the downsides that would usually come with them. No more worrying about your furniture becoming sun-bleached, or letting your home grow too warm from direct sun. Sheer roller shades diffuse direct sunlight, protecting your furniture and wallpaper from severe UV damage. They can also help in cutting back on energy spending. Utilize sheer roller shades to brighten up a room during the day instead of using electricity. These features make sheer roller shades a great fit for areas such as kitchens, bathrooms, living rooms and various office spaces.
Custom Made Motorized Roller Window Shades
Your smart home system already does so much for you, why not further simplify by adding your window treatments to it? Motorized roller shades can connect to Wi-Fi enabled devices like Alexa or Google Home, as well as smartphones and tablets. This will allow you to open or close them remotely with a great deal of ease. You can also get motorized roller shades that use brightness sensors. That will let the shades open or close according to how much light you prefer. You may find it surprising to learn that this can help reduce energy waste, but it's true! It keeps your indoor spaces from getting too warm. To learn more, book a free estimate with our local Palo Alto motorized roller shades specialists for an in-person consultation.
Blackout Roller Window Covers - Your Own Home Theater
Why go out to get a great theater experience, when you can turn your living room into one instead? Blackout roller window coverings will provide complete darkness for any room, preventing glare and allowing you to enjoy your TV without interruption. Our professionals make each set of blackout roller shades made-to-measure according to the dimensions of your windows. Because of this, we can ensure there are no gaps for sunlight to come in through. Blackout roller shades are excellent for Palo Alto bedrooms too and assist in better sleeping habits. Don't worry about being stuck with one color of shades either. There are a lot of different colors to choose from so your interior décor can still benefit!
Motorized Exterior Roller Shades For The Palo Alto Area
You want your home to look it's best, and that's exactly what Blinds & Shade Palo Alto is here to assist you with! Besides your windows, your backyard patio or gazebo can also benefit from roller shades. Especially motorized ones. Our selection of waterproof exterior shades, motorized for convenient remote control, let you create outdoor shading in an instance. Find out all about the different features and options you can choose by booking a free consultation appointment at any nearby Bay Area address.